NR | 1h 52min | Documentary, Biography | September 23, 2022 (US)
There is no doubt in the mind of anyone of a certain age that Sidney Poitier has broken many barriers both on and off the screen. The recipient of countless performance, achievement and humanitarian awards, a knighthood and an ambassadorship, Poitiers' influence on the arts and world politics cannot be overstated.
Judging by the wear and amount of lines on Poitier's face and the photos of him taken closer to his passing in January this year, this project has been in the works for at least five years, and probably longer, but this is fortunately not a vanity project.
I got the impression after watching it (twice) that if there was going to be a movie about him, Poitier wanted the facts out of his mouth and the opinions of him and his works to be the opinions others.
Although born in Miami, Poitier grew up in his parents' Bahamian homeland, first on Cat Island and then at the age of 10 in Nassau. It was then that he became aware of electricity, indoor plumbing and, curiously, mirrors. He returned to Florida at the age of 15 at a time (1943) when the iron fist of the Jim Crow South was in full force. Less than a year later, Poitier moved to New York and never looked back.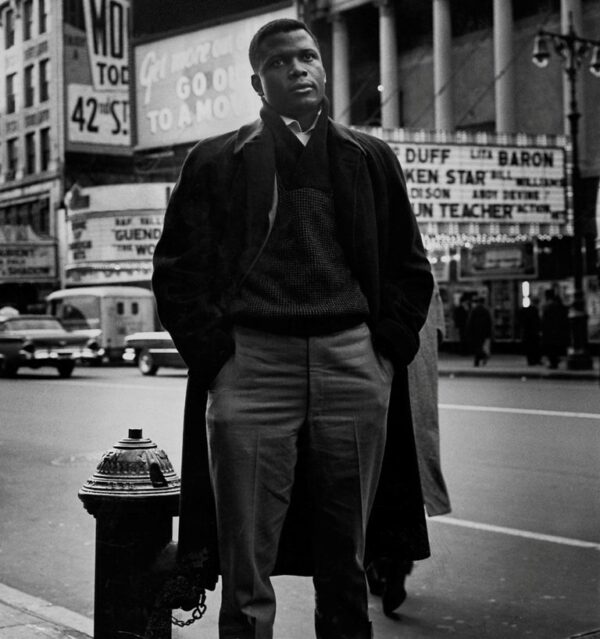 The big break
While working part-time in restaurants, Poitier was able to come to the attention of Frederick O'Neal, the founder of the American Negro Theater where he first met Harry Belafonte. As Poitier's youngest daughter Sydney (of six) ironically described, the pair's relationship was the longest "bromance" in entertainment history.
This was especially true as they followed nearly parallel career paths, often competing for roles, and had an intense but friendly professional rivalry. It was when Belafonte couldn't perform one night in a play and his understudy – Poitier – took his place and was discovered by a major studio talent scout.
After a handful of mostly forgettable roles, Poitier gave his breakthrough performance in Richard Brooks' 1955 social commentary drama "Blackboard Jungle" where, aged 28, and quite convincingly, he played a high school student. Three more years would pass before Poitier appeared in "The Defiant Ones," the film that fully established him as a force to be reckoned with in the film world.
A decade of perfection
Poitier and his "Defiant Ones" co-star Tony Curtis were nominated for Best Actor Oscars but lost (to David Niven for "Separate Tables"), although Poitier won the BAFTA for his performance. This led to Poitier's personal 10-year "golden age" which included, among others: "Porgy & Bess", "A Raisin in the Sun", "Paris Blues", "Lilies of the Field" ( for which he won his only competitive Oscar), "A Patch of Blue", "To Sir, With Love", "In the Heat of the Night" and "Guess Who's Coming to Dinner".
High marks must be given to director Reginald Hudlin and writer Jesse James Miller who stop short of canonizing their subject matter by including clips where Poitier's considerable ego got in the way of his art, and going into detail about her nine-year-old extra-marital affair. affair with actress Diahann Carroll.
For the most part, the filmmakers deliver imagery and commentary in a not-too-quick clip, rarely allowing interviewees such as Belafonte, Morgan Freeman, Lenny Kravitz, Halle Berry, Denzel Washington, and Poitier's immediate family (including his ex-wife Juanita Hardy) to run too long, which is a good thing. In this case, in-and-done sound bites are preferable to rambling, overwhelming monologues.
Too O
However, and sadly, that's not the case with Oprah Winfrey who, unsurprisingly, is also one of the film's producers. Every time she talks (which is all too often and mostly about herself), Winfrey stops the movie in its tracks. Given that she's one of the best interviewers of all time, Winfrey should have known not to grab the spotlight in such an obvious and distracting way.
There are very few instances where movies of any genre need to be longer than two hours. At its current 112 minutes it covers virtually every aspect of Poitiers' incredible life, but had it been stretched to, say, 135 minutes (minus most of Winfrey's content) it would have been perfect.
It would be great if the future home video release of "Sidney" included what would almost certainly have been left on the cutting room floor.

"Sidney"
Documentary
Director: Reginald Hudlin
Duration: 1 hour 52 minutes
MPAA Rating: NR
Release date: September 23, 2022
Rating: 4 out of 5