By Gerald Peary
This year, I decided to skip gay movies altogether. Instead, I got tickets to two promising lesbian-themed documentaries. An excellent decision.
No matter the sexual inclination, you can only embrace the spirit of the annual Provincetown Film Festival by attending the Fest's specialty, a good portion of current queer cinema, both documentary and fiction. And raises. The 2022 Festival in June included, on its 50th anniversary, John Waters' classic Pig Pink flamingos in a 4K restoration by the Criterion Collection. (artistic fuse exam)
I only arrived in P-Town for the very end of the Festival, its last day and a half. What gay movies should I watch? Some other years, I got a little burnt out by the "cute" sit-coms between boys, so sweet, tame, conventional. This year, I decided to skip gay movies altogether. Instead, I got tickets to two promising lesbian-themed documentaries. An excellent decision.
The fitting winner of the Fest Audience Award for Best Documentary was the charming – and insightful – Esther Newton made me gay. It is a tribute to a major cultural anthropologist (today Margaret Mead?) whose work is too little known to the general public because it has been marginalized by the pure guardians of her domain. Instead of studying "The Other" for her work, traveling to Samoa or New Guinea, Newton stayed home to peer into her own gay and lesbian world with pioneering looks at drag queen performers in nightclubs. gay and the locals of Fire Island summer life. Unlike many neutral-minded academics, Newton is a cheerleader for queer life, and powerfully opinionated. In a large scene, she is seen at an exhibition inspired by Susan Sontag At the camp at the Metropolitan Museum of Art, accusing Sontag of dishonesty for not specifying that the "camp" is a gay phenomenon.
The title Esther Newton made me gay is amply deserved, as shown by a series of moving and enthusiastic interviews with young cultural anthropologists inspired in their vocation by the exemplary example of Newton. It's a fabulous film, made all the more fun by a live appearance in Provincetown by its charismatic and outspoken protagonist. Spry into her 80s, Newton attended with her longtime partner, lesbian-feminist performance artist Holly Hughes. Allow me to thank the talented filmmaker Jean Carlomusto for choosing to make a documentary about Newton as a follow-up to his success Larry Kramer in love and anger (2015). After the screening, I approached Carlomusto and gave him an idea: why not his next documentary on the legendary lesbian? Voice of the village dance critic Jill Johnston?
My second choice of lesbian film, that of Eva Vitija To love Highsmith, was an intelligent and unbiased look at controversial novelist Patricia Highsmith, whose reputation has been tainted in recent years by revelations that the late writer was a delusional anti-Semite. What can I say ? This Jewish journalist is a huge fan of her work, having read at least 10 of her superb crime novels. For those who don't know, Highsmith is the author, among other books, of Sstrangers on a train (1950), Ripley's heralded novels, and, under the pseudonym Claire Morgan, perhaps the first work of lesbian fiction with a happy ending. This is The price of HERthat (1952), made into a 2015 film Carol. (Fuse Arts commentary) Many of his novels became blockbuster films, beginning with Hitchcock's interpretation of Strangers on a train (1951).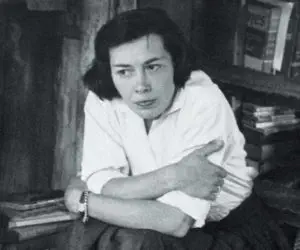 And in life? Highsmith was a brooding, often unhappy loner with a series of obsessive crushes on women and a host of stormy love affairs. Fortunately, the filmmaker of Loving Highsmith reunited with several of her longtime girlfriends for revealing intimate conversations, including with colorful lesbian novelist Marijane Meaker. The big surprise for me was that Vijita found a lot more live footage than I imagined of Highsmith, that desperate, reclusive misanthrope.
Not all Provincetown films were queer-themed. by David Siev bad ax is a brilliant personal documentary about his Midwestern Asian-American family, who have resided happily in rural Bad Axe, Michigan. But as Trumpism seeped into the normally quiet small Republican town, their restaurant business came under racist attack. Siev doesn't hold back the family feuds sparked by suddenly being besieged. And he's there with his camera for an incredible real-life scene: a confrontation between hooded ultra-rightists and Black Lives Matter protesters on the streets of Bad Axe.
by Sarah Jones Sell/Buy/Date is a hybrid film: semi-fiction, quasi-documentary. It's based on Jones' stage play, in which the actress catapults herself through a series of comedic roles – a Hispanic lunatic, a nagging old Jewish lady, a hip-hop driver, and more. — while Jones pursues a serious matter herself. It is about whether the sex trade should be hailed as a place of freedom for women to choose their profession or condemned as a place of female danger and male oppression. The film version – sometimes powerful and in-depth, often clumsy and cutesy – poses the same complex question and arrives at a tentative answer. Prostitution should be decriminalised, although the life of a sex worker is often terrible, appalling and impoverished.
Finally, I chose a foreign language film in Provincetown by an esteemed international filmmaker, Both sides of the blade by the Frenchwoman Claire Denis. Though starring two highly acclaimed veteran actors, Juliette Binoche and Vincent London, this film is a muddled disappointment, a three-way love triangle in which it's hard to care for any of the indulgent participants (artistic fuse exam). Actor three, now rounded and middle-aged, was Grégoire Colin, who played the role of a young comely in the first Denis. Alas, these films of Denis were so much better than his recent works, such as the touching love story, NOTÉnette and Boni (1996), and undeniable masterpiece of Denis, Good work (1999).
---
Gerald Peary is Emeritus Professor at Suffolk University, Boston; former curator of the Boston University Cinematheque; and the editor of the University Press of Mississippi's "Conversations with Filmmakers" series. A critic for the deceased boston phoenix, he is the author of nine books on cinema; documentary screenwriter-director For the Love of Cinema: The Story of American Film Criticism and Archie's Betty; and a featured actor in the 2013 Independent Narrative computer chess game. His latest feature documentary, The rabbi goes westco-directed by Amy Geller, played at film festivals around the world.